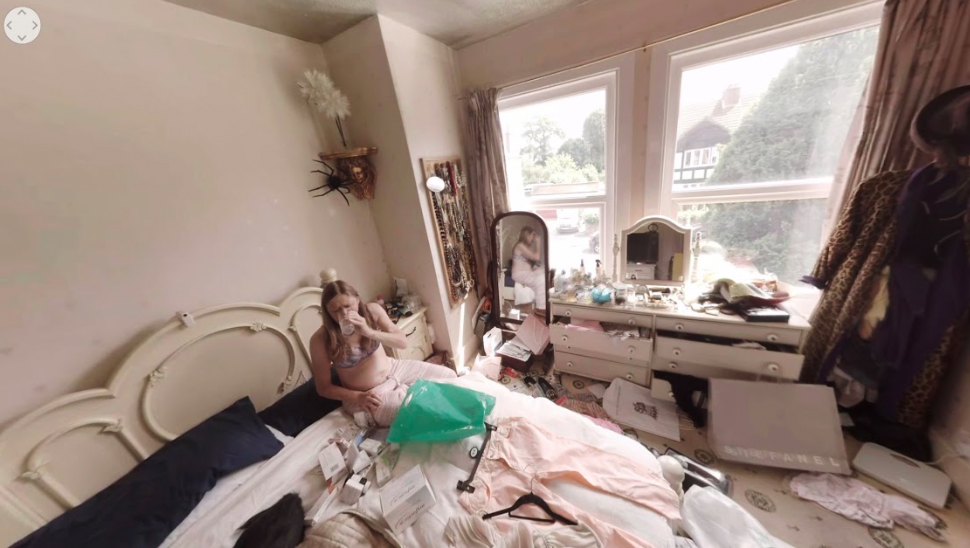 Timely Tale' is staged in a reconstructed NHS waiting room, complete with sofas, carpets and toys from abandoned hospitals across the country. We are invited to take a seat and put virtual reality headsets on. The film is approximately six minutes long: transported into Penny's bedroom, suspended from the chandelier, the audience steps into a confined world they cannot leave. One could be absorbed by the pile of clothes lying on the floor or the huge amount of pills Penny digs out of a drawer. About 10 years ago, Penny had a kidney and a pancreas transplant, and in March this year, her kidneys started failing again. What's interesting is that she's very cheerful and optimistic in her narrative. However, in order to stay alive, she has to take 50 tablets a day, 25 in the morning and 25 in the evening.
The exhibition becomes an interactive work, which gives the viewer full control and choice of what to see. For Caruana, this represented a challenge as it meant the film had to be extremely natural, without cuts and had to feature no one other than her mother. To make sure that the shooting went smoothly and her mother would be able to talk freely on film, the artist's team spent a lot of time with Penny, learning about her life and illness. The result turns out to be a powerful and emotional experience.
'Timely Tale' addresses the swift change happening to the photographic frame. With the advent of 360° technologies, the audience feels empowered to look around, turn their heads to the right to observe the vast amount of pills or to the left to see what's displayed on the television screen. This change deeply affects the role of the photographer, who used to be in charge of the photographic frame, whereas here the viewer is in control.
'Timely Tale' is also a commentary on the current socio-political situation we live in. The setting of a reconstructed medical environment allows the artist to make a deeper remark on the NHS crisis, which is addressed by television screens that project data regarding the NHS' situation. For Caruana, this background adds an equalising dimension, as we are all familiar with medical waiting rooms, sharing the space with other people whose stories we don't know. When we sit in a hospital, a place that's been affected by budget cuts, we automatically become part of the story.
Caruana's work is original, inquisitive and resourceful. Her work underlines how photography and our consumption of it is ever shifting. The narrative running throughout 'Timely Tale' tells a story of excessive choice and the consequences for an individual: NHS cuts, medicinal price inflation, the pressure to find 'Mr Right' and the effects of young and beautiful images on our mental health, especially for Penny who is also handling the ageing of her own body alongside the effects of her illness.
Words by Reviewed by Fiorella Lanni for thisistomorrow
COMMISSIONED BY PHotoworks uk and House bieNNALE